Blog #2 The Fundraising Blues
A Happy New Year to you all.  (I think we can still say that mid-February, can't we?)
As I've considered on which footing I will gear up my fundraising effort again after a slow holiday lull, I must admit to a sub-conscious level of guilt about asking for money when countless Australians have had such a rough summer. While far from immune to bushfires, Tasmania has by and large – so far – rolled through this summer unscathed from fire damage. Instead, this season we've watched from afar and haven't felt the heat (no pun intended) the way many other Australians have: more than 2600 homes have been lost, there have been 33 deaths, 1.25 billion wild animals killed and more than 18.6 million hectares of land burned. The heatmaps were red and hot, and there have been (fire) truckloads of reasons to be donating to the many needs caused by bushfire, including those who have lost their homes. 
However, amid the internal grappling with when to continue with my own fundraising, I must say the parallels are looming large. The devastation of losing home – that place of belonging, where identity is formed, security felt and rest available – IS a horrific event in a bushfire.  But losing home is also an ongoing daily reality for many other Australians. As a housing researcher, I have spoken at length with many people who have survived homelessness (did you know there are homelessness heat maps, too?) For some, homelessness looks like sporadic periods of couch surfing. For others, it means stretches of months and even years moving from crisis shelters into cars to relative's spare-beds to transitional accommodation and back to cycle through them again. For others, it is long, cold, hard and rough nights in the concrete underbellies of our cities.
Like bushfire, homelessness is something to be survived and not everyone does. Unlike bushfire mortality rates, we know precious little of how directly homelessness plays a role in early death. We do know, however that people who have experienced long-term rough sleeping can expect on average to live around 30 years less than other Australians (CHP 2018).  
Homes matter. Losing home to bushfire is devastating, and when it happens we all rightly dig deep because it confronts us with a mirror in which we see our own possible futures.  Let us not forget also that other Australians are losing their homes every day and - should we choose to look - their mirrors reflect back at us circumstances to which we are all also vulnerable: loss of employment, illness, or relationship breakdown to name a few.
So, I write this first blog of 2020 with less guilt and more resolve to speak about the hidden Australians who continue to lose their homes to circumstance. For them, the rebuild is less about short-term displacement, land-clearing, bricks and mortar, or waiting for insurance pay-outs.  Rather, it often requires rebuilding life itself: finding home, rebuilding health, seeking purpose, and not least, re-discovering a sense of self.  
The Larapinta Trek fundraiser is the funding engine behind Mission Australia's Missionbeat NT project. Focusing on young people at risk of or experiencing homelessness, the service engages with young people to provide interventions and direct referrals to services so that sans home doesn't become a way of life. Your support – whether financial, sharing on facebook, or an email to say hello – is very much appreciated.  Thank you!
Blog # 1: So Why Trek?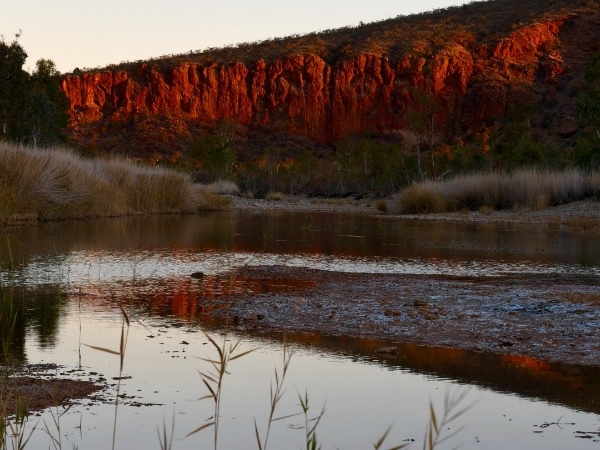 It may have the smallest population in Australia, but for the last decade, the Northern Territory has consistently had the highest rate of homelessness in our country (ABS).  In fact the rate in NT is no less than twelve times the national homelessness rate (NTShelter).
I live about as far away as it gets from the NT in this country. Tasmania doesn't appear to have a lot in common with its northern counterpart - if thinking of climate, land size, and the colour of the earth – but actually we are often compared with NT by our population size and social and economic outcomes.  
We also share housing affordability challenges, but with differing priority issues. Tasmania is in the grip of deep housing market challenges that are still being labelled a housing 'crisis' for good reason.  Our housing prices and rental prices are high, vacancy rates ridiculously low, and rental affordability measures the worst in the country. But it's also pretty cold here, and sleeping rough is a different kind of challenge than in the warmer climes of the north, so we visibly see fewer people sleeping on the streets. In Tasmania, the homelessness rate is 31.5 people per 10,000; with other states and territories hovering between Tasmania and NSW which is 50.4 per 10,000 people.
But what about the NT? In the NT, a whopping 599.4 per 10,000 sleep rough. Yes, you read that right. Homelessness is a huge challenge, and in fact, a range of homelessness statistics in the NT are eye-opening to say the least.  NTShelter highlights that:
6 per cent of all Territorians are experiencing homelessness right now (or 13,717 people)
88.5 per cent of all homeless persons are Aboriginal, despite representing just one third of the population
20 per cent of all Aboriginal Territorians are experiencing homelessness
Almost half of all client demands in the NT remained unmet in 2017/2018
48.5 per cent of all homeless people in the NT are under 25 years of age
16.5 per cent of all people under 18 in the NT are experiencing homelessness
Come again?  More than 16 in every one hundred children are currently homeless. Imagine, of a small school of 250 students, 50 of them are sleeping rough or in extremely overcrowded dwellings. 
Not good enough, really.  And it isn't just the lack of sleeping options that is problematic.  We also know that homelessness is linked to a range of other risks and adverse outcomes: social isolation, lack of privacy, lack of healthy or nourishing food, increased sickness and chronic illness, less access to medical or dental care, missing school and decreased educational outcomes to name a few.
So, this is why I trek. In 2020, I'm walking with Missional Australia across a number of sections of the Larapinta Trail to raise money for young people experiencing homelessness in the NT.  The trek is in its 3rd year now; the first two treks raised enough to launch Missionbeat NT in October 2019 (it's new!), This trek will help continue to fund this program: outreach, support, engagement, intervention and referrals to 12-25-year olds at risk of, or experiencing homelessness. 
I hope you can join me in supporting our 'Together We Trek' adventure through your donation, so that those for whom this program supports can have a chance at standing on their own.
Thankyou!
Together we Trek 2021!
I'm off on a great challenge and I would LOVE your support!
During Homelessness Week August 2020, I will be trekking the Larapinta Trail, NT, to raise funds for Missionbeat - a mobile outreach service in the NT helping young people experiencing homelessness or in need of other assistance.
I'm a housing researcher and often hear heartbreaking stories of what it is like to live in insecure, risky, inadequate or inappropriate housing in Australia. It is NOT good enough that tonight, almost 1 in 10 young people aged 12-18 in the NT will be homeless...so in 2020 I'm doing something more than researching about it! Will you join me?
By sponsoring me on this 5-day, 67km trek, you will be helping Missionbeat NT case workers to provide food, clothing, medical care and, where possible, safe accommodation to young people in need.
Thanks for helping me do this challenge. Every cent your donate will go to Mission Australia. Together we can help young people take positive steps towards lives of independence!
Thank you to my Sponsors Marc Sierink Nick Wing Shannon Trenwith Harry Andrews Esther Staal The Tapping Family Trudy Verdouw Judith Snellenburg Hillie Harder Anna Pafitis The Hyneseys Mila&vivo Terry Anni Millie And Grace Walker Lucy Ward Anonymous Adam & Angie Turner Up Loans Nick Wing Elise Armstrong Kyna Hart Terrie Dempster Julia Verdouw