Together we Trek!
I have created this page because I want to make a difference! I have signed up for Mission Australia's Together we Trek: Larapinta 2018 challenge and I need your help. Every dollar you donate will go directly towards launching a new Missionbeat service to support young people in the NT.
Missionbeat is a mobile outreach service that seeks to help people who may be experiencing homelessness or are in need of assistance. Outreach staff aim to meet people's immediate needs, providing food, clothing, medical care and safe accommodation where possible, or blankets and swags as a last resort.
Missionbeat services also work in close collaboration with other organisations to help break the cycle of homelessness for individuals and families. By donating to my Larapinta trek, you'll play a vital role in launching urgently needed Missionbeat services in the NT. Thank you in advance for your generous donation and I can't wait to help make a difference and spread the word of the inspiring and life changing work of Mission Australia.
Thank you to my Sponsors Sonia & Dave
KAYE ! ! ! It's not often you get to support someone you admire and help them reach one of their goals! Hope this helps. Cheering you all the way to the finish xoxoxo Des
good job sis, enjoy the trek beautiful part of the country for a good cause. cheers x Gavin Ivey
best of luck on your quest Robbo & Barbara.
Go for it Daughter ! Gateway South
Great work Kaye Richard Cowley
Fantastic initiative Kaye. Hope it goes well. Matthew Saviana
Hi Kaye, You are a very generous person. This looks like an amazing opportunity to see a bit of Australia and contribute to a worthwhile case. Good Luck. Matt Brendon
Good Luck and enjoy the journey. I'm sure you'll smash it. Yvonne Smolenski
Good luck, I am sure you will make it Love Yvonne Chadszinow Family
Well done Kaye my family and I wish you the best. Deborah Reid
You go girl xx Mission Australia
Bake Sale Collette Dowd
Hi Kaye, wow what an amazing thing you are doing. All the best with the trek. Collette Michael Phillips-ryder
Great cause Kaye. All the best. David Hicks
Well Done and Good Luck! Hamish Gray
All the best Kaye! Alastair Dalton
Hi Kaye, just one thing to remember Walk straight, one foot after another, don't fall over...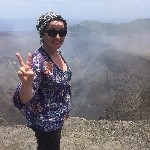 Cara Freeman
Kaye You continue to inspire me with your courage and adventurous spirit. Rock On! 😁 Sarah Hammoud
Always my guru and inspiration. Wishing you well and will be cheering you from the sidelines. xx John Hannon
Best of luck with your Trek, hope you reach your fundraising target for a great cause. Simon Gray
Love your work Kaye. It must be the Took in you... Tim And Ellyse Williams
Though I would round it up to an even number for you Angela Cilia
Well done Kaye! Fantastic! Maria Kane
All the best for your trek Kaye Jules D'arcy
Good luck with it Kaye, going to be awesome and what a great cause. Lisa Plowman
You're such a beautiful person! Good Luck with the Trek xx Lisa Earl
What a great cause. Very proud of you Kaye. Well done Emma Brougham
Good luck with your Trek and raising your goal donation :) what a worthy cause you are supporting. Can't wait to see all the pictures Suzi Thomas
You can do it, Kaye! Christine Hart
You go girl! Kelly Smink - Fhi Western Region
Well done Kaye and all the best for your challenge.