School Sleepout
Did you know that the rate of homelessness has risen 14% in 5 years.
Recent statics reveal that on any given night more than 116,000 Australians don't have a safe place to call home and in a wealthy nation like ours this is unacceptable.
This year we're raising money by hosting our own Sleepout to support Mission Australia and we'd love your help.
$22 can buy a set of sheets so a child can be tucked snugly into bed and $299 can fit out a whole bedroom with basics to feel safe and secure.
Thanks in advance!
Thank you to my Sponsors Ipswich Grammar School Students Allison Rootsey Josh Grbin Rob And Joy Butler Liz Shaman Shan Claire Neumann Preso's Kirsty Thorley Adrienne Dougal Mark Jones Karen M Mandy Martin Kristy Anonymous Shane Kendall Trudy Imber Samuduni Wijeyewickrema Sarah Thornton Ithink Property Nana & Pa Ross Waters Family Mick Kendall Tracey Young Robbie Young Megan Ryan Michelle Hawck Andrew Sturges Reg And Gwenda Mcmillan Marcia Barnes(nanny Mar) John Fitzgerald Anonymous Kerri Griffin Candice And Chad Uphill Susan Shaw Anonymous Greg Massey Anonymous Michelle Napier Massey Massey Burrell Family Blue Ribbon Motors Ocean,jet, Darren & Sian Cameron Alison Anonymous Stacey Kendall Msrtin Wells Ian Woodgate Margaret Wells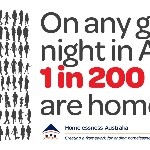 Matt Rixon Don Rixon Sherenne Gehrke Cook Family Margaret Cook James & Heidi Nigel Lavender
Libby Fletcher Sharon Morgan Brianna Egan Carolyn O'byrne Anne Stephens Horneman-wren Anonymous Venora, Norman & Nathan Anonymous Zephan Behan-howell Evelyn Ingham Anonymous Anonymous Renshaw Family Meredeth Mcsweeney Wong Anonymous Robert Renton Lynette Dresselhaus Anna And Rob Steve Mckewin Karen Miller Nanny And Grandpa Jenny Purkiss Aviv Ben Nachum Anonymous Lisa Mckewin Andi Yeo Maki-neste Family Zane Jane Zacc And Zara Smith Nicki Lockley Katrina Christiansen Anonymous Anonymous